Orthopedic Patient Stories
Reclaiming Independence
Sara Niebrugge's knee replacement enabled her to embrace life again.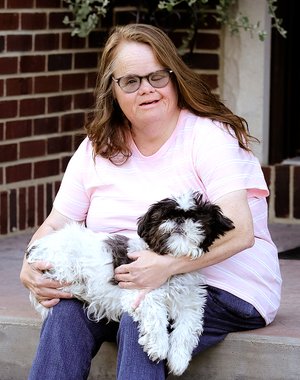 Sara Niebrugge loves her large family and adores her great-nieces and nephews. She looks forward to family gatherings and the opportunity to play with the kids. But as the pain in her knee grew to debilitating levels, her world shrank around her. She was no longer able to enjoy time with her family the way she wanted to.
Sara's sister, Mary Dust, explained that Sara had injured her knee when she fell. She also suffered with arthritis and a large bone spur on her left knee. Arthritis in the joints is very common in people with Down Syndrome, even in people as young as Sara, age 52. 
Sara's niece, Emily Parker, a nurse for SBL Orthopedic Surgeon Eric Brewer, DO, recommended that Sara be evaluated by him. Dr. Brewer started conservatively by providing steroid injections into the knee to reduce Sara's pain, but Mary explained, "She was moving less and less all the time. She couldn't navigate stairs and she could hardly walk. She was just in so much pain that we had to do something more."
The solution was a knee replacement on June 21, 2022. "We wanted her back on her feet before the fall holidays," Mary said. "Sara did really well with the surgery, staying in the hospital for three days and then going to Lakeland Rehabilitation in Effingham for 21 days. That extra care was key for us to have that extra support system. Sara worked hard to regain her strength and mobility." The surgery provided her with instant relief. 
Mary felt that the surgery went better than she expected, and the critical piece was having a recovery plan. "Dr. Brewer and my daughter, Emily, got on board with a post-care plan. For me, the surgery was one thing [to get through], but how we were going to care for her afterward was just as important. We were really lucky that Dr. Brewer understood our needs and had a plan in place. 
At the time, Sara lived with her mother and worked at Community Support Systems in Teutopolis. She returned home to help care for her mom, work in the family's garden center, The Flower Patch, and help package items for Operation Christmas Child. But when her mom passed away in January, Sara was uprooted and grieved deeply.
She went to stay with Mary and her husband, Paul, who had converted their downstairs into an apartment for her. Sara spends weekends with her brother, Alan Niebrugge and his wife, Linda. She also enjoys spending time with her sister and brother-in-law, Pat and Keith Willenborg.
Sara continues to exercise by walking the dog and by taking leisurely walks to the end of the long driveway, and she is the first to jump at the chance to play with young children when they visit.
Community Support Systems keeps her busy most days, but when she's not working, she enjoys singing karaoke and dancing. Mary explained, "When our mom was alive, Sara spent most of her free time at home with her, helping Mom around the house, but now Sara's on the go with Community Integration Services Program. She's been to a St. Louis Cardinals game, the city's aquarium, and the St. Louis Zoo; she's been bowling, and she's been to both Beachy's and Yoder's Kitchen in Arthur. The group always has something fun planned, and Sara really enjoys the activities." 
Mary continued, "She could never have done all those things without the knee replacement surgery. She's able to walk on stairs now, and that opened a world of possibilities to her. She's living more independently, and she's loving it." 
"I used to call her Myrtle because she walked so slow, but I can't do that anymore," Mary said with a chuckle. "Sara has recovered incredibly well and regained her mobility and range of motion, more than most people. We're really grateful for Dr. Brewer and for the surgery and the staff at Sarah Bush Lincoln. The team was fantastic. When you have a special needs person, not everyone is totally comfortable with that, but I think everyone was a rock star in caring for her. It has turned Sara's life around." 
For more information about SBL Bonutti Clinic, call 217 342-3400 or SBL Orthopedics & Sports Medicine in Mattoon at 217 238-3435.